Neighborhood News
From beautiful Folsom Lake, to biking and hiking trails, highly regarded schools and low crime rates, Folsom continues to be one of the most desirable suburbs to live within Sacramento County.
As an Empire Ranch resident, I am proud to be part of not only a thriving community, but a wonderful city. The quality of life here makes being a mom, wife, Real Estate Broker and business owner that much more enjoyable. However, before Empire Ranch evolved into the community it is today, it was just 1700 acres of land purchased and developed in 1865. Now, more than 3500 residents call Empire Ranch home.
In this new monthly newsletter, I will share the latest on developments and happenings around Empire Ranch. Plus, local housing market updates, tips, Folsom events and much more.
I would also like to invite all residents to join the Empire Ranch online community called Nextdoor. This easy to use website makes communicating with our neighbors about important alerts, events, and much more very convenient. If you're not already a member and would like to join, just send me an email at Stephanie@capeqgroup.com and I'll send you an invitation to join.
---
Folsom Real Estate
It's hard to believe it's already August! So with more than half the year gone, how is the current housing market?
For buyers: There is still a lot of competition in getting your dream home. Prices are still climbing and won't stop anytime soon.
For sellers: If you're thinking about selling your home, don't wait! There are more buyers ready to purchase property now than there has been in years! The supply of homes for sale in Folsom is not keeping up with the demand of buyers.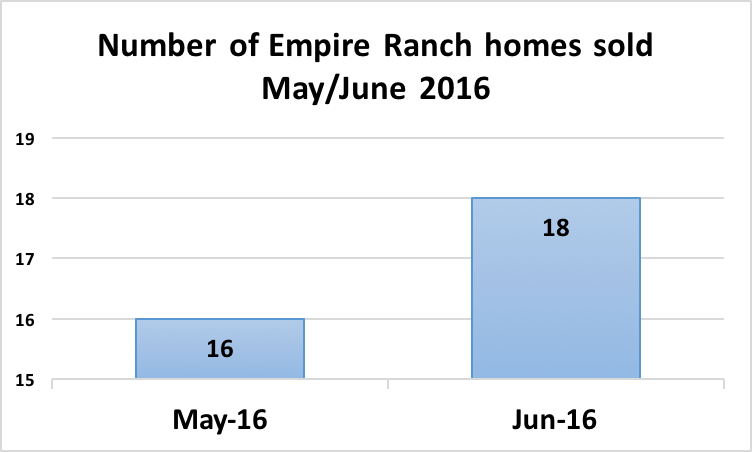 ---
Folsom Market Report

Folsom's market report from May 2016 to June 2016 shows there was an increase in the number of homes for sale and sold.

All information deemed reliable, but not guaranteed. Courtesy: Trendgraphix.
---
Back to School Tips
It's August, which means school schedules and busy days are right around the corner! However, back to school doesn't always have to be a hectic time of year. Here are a few tips from one parent to another to help keep your home organized this month.
ELIMINATE CLUTTER
Clear closets and get rid of stuff that your kids no longer need or want.
HOMEWORK STATION
Make an area of your home the designated homework station to help get your kids back into an after school work environment.
MAKE LISTS
Back-to-school also means shopping for school supplies. So to help you not make a bunch of trips to the store, make a list with your kids after their first day of school.
RULES
Your kids are not used to having a schedule, so give them a few rules to help keep after school time in order.
---
Just Listed in Empire Ranch
124 CRUICKSHANK DRIVE, FOLSOM, CA 95630
Offered at: $539,000 | 3 beds, 2 baths, 2,064 sq. ft.
1865 ARDFERN WAY, FOLSOM, CA 95630
Offered at: $435,000 | 3 beds, 2 baths 1,423 sq. ft.
456 PORTER ROAD, FOLSOM, CA 95630
Offered at: $519,000 | 4 beds, 2 baths, 2,024 sq. ft.
---
Meet your Local Agent

ABOUT ME
Stephanie Noble is the founder & CEO of Capital Equity Real Estate, a boutique Real Estate Brokerage located in Folsom. As a 16-year Real Estate industry veteran, Stephanie has developed a solid foundation of clients through her ability to build lasting and trusting relationships.
Since opening Capital Equity Real Estate in 2011, Stephanie has been involved in hundreds of successful homeowner transactions within the local market. Stephanie is also a member of the Sacramento Association of REALTORS® Masters Club and is recognized as a top agent in our region. Her vision and dedication to her clients is what sets her apart from other local Realtors.
Contact Stephanie anytime to schedule a free consultation at (916) 601-6679 or you can email her at Stephanie@capeqgroup.com
---
Testimonial
"I didn't know Stephanie until I asked her to help me buy a house in Folsom. The market is competitive and I needed a go-getter and someone with a ton of experience on negotiating. Within a month we found a house and I couldn't be more excited! Not only did we find a perfect house, I gained a trusted friend and RE agent for life!"
- Pam Lauck, 119 Foley Lane, Folsom, CA 95630