Neighborhood News
HAPPY 2017! I hope you had a wonderful holiday and a happy new year!
As we move into 2017, what's in store for the housing market? Realtor.com recently predicted the greater Sacramento area will be the nation's fourth hottest housing market this year. This is exciting news for both buyers and sellers in our region! Phoenix, Los Angeles and Boston topped the list. Still, Realtor.com experts say all the top markets have relatively affordable rental prices, low unemployment, large populations of millennials and baby boomers, as well as a high number of listing views on its site. The Sacramento market is projected to have a 7.2 percent price growth and a 4.9 percent sales growth this year. The median home price is estimated to be $420,000. I look forward to seeing how this year's housing market plays out!
Turning to Folsom news, more businesses continue to make their way into the area. Another new restaurant set to open in Folsom this spring is Broderick Roadhouse. The locally owned eatery is known for its critically acclaimed burgers and scratch cooking in West Sacramento. Their newest location will open next to the new Mikuni in the Folsom Pointe center at East Bidwell Street just off Highway 50.
If you have any questions about these developments, please call me at (916) 601-6679 or you can email me at Stephanie@capeqgroup.com
January Events in Folsom
Ice Skating in Historic Folsom
You still have time to enjoy the ice!
The rink is open until Jan 16, 2017
Hours: 10:00am-10:00pm
905 Leidesdorff Street
www.historicfolsom.org
DRUMLine Live!
Thu, Jan 19 - Fri, Jan 20, 2017
Dazzling choreography & explosive percussion!
Harris Center for the Arts
10 College Parkway
Cost is $39-$75
www.harriscenter.net
Folsom State of the City
Mayor Andy Morin
Thu, Jan 19, 2017 from 11:30am-1:00pm
Cost is $40-$50
1100 Blue Ravine Road
www.folsomchamber.com
New Year Home Tips
In the spirit of the New Year, getting your home organized can be a great way to begin 2017! Here are a few simple steps to get you started:
Make a list
What do you want to organize? That junk drawer that hasn't been touched in months, your office, your kid's closet? Write down your top cleaning priorities.
Give yourself a deadline
When do you want to complete each task? Make it as specific as possible.
Bring out the filing cabinet
Arranging your important documents can help keep you organized, especially with tax season around the corner.
Donate clothes
Organize your closet and get rid of items you no longer want or need.
Stay positive!
If you feel overwhelmed, take a break and remember your end goal. Don't forget to reward yourself after you accomplish your tasks!
Folsom Real Estate
With the greater Sacramento area expected to be one of top Real Estate markets in the country this year, here is the number one reason to sell now instead of this spring.
The price of any item (including residential Real Estate) is determined by 'supply and demand.' If many people are looking to buy an item and the supply of that item is limited, the price of that item increases. According to the National Association of Realtors (NAR), the supply of homes for sale dramatically increases every spring. Putting your home on the market now instead of waiting for increased competition in the spring might make a lot of sense.
Buyers in the market during the winter months are truly motivated purchasers. They want to buy now. With limited inventory currently available in most markets like Folsom, sellers are in a great position to negotiate!
Courtesy: Keeping Current Matters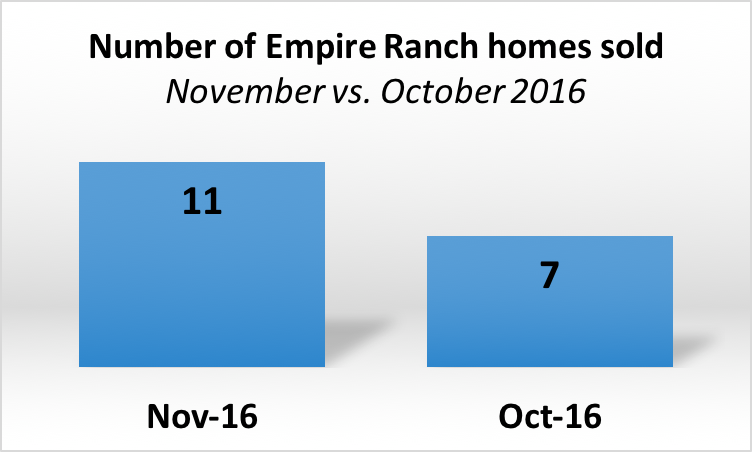 Folsom Market Report
Folsom's market report from November 2016 to October 2016 shows a 21 percent decrease in the number of homes for sale and a 31 percent decrease in the number of homes pending. However, there was a 7.5 percent increase in the number of homes sold.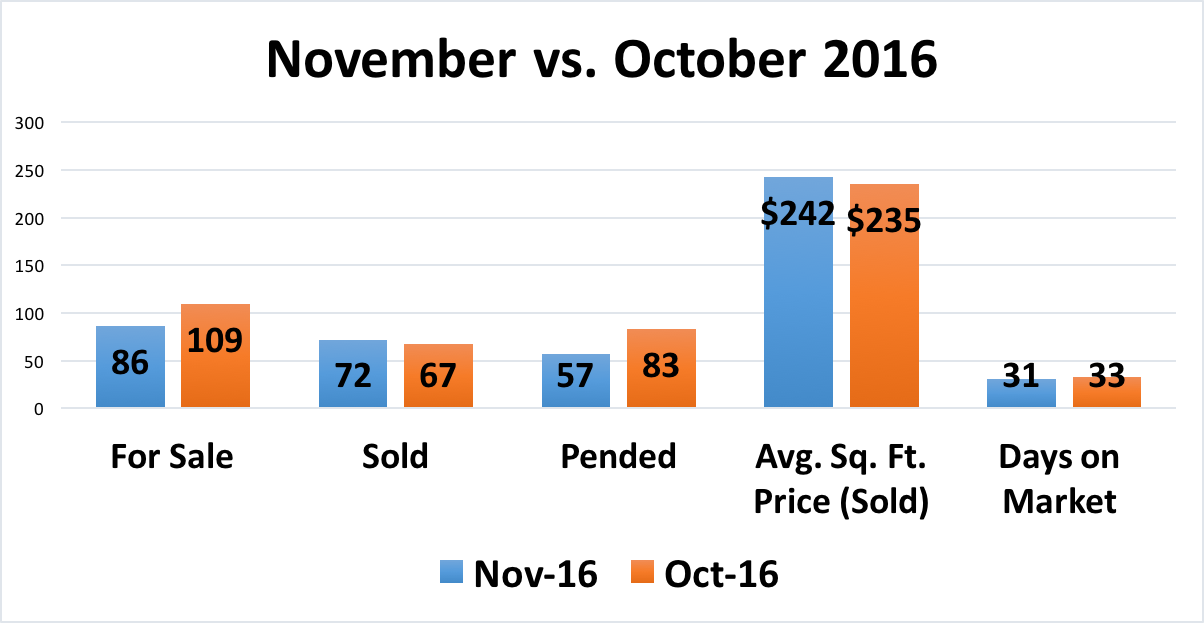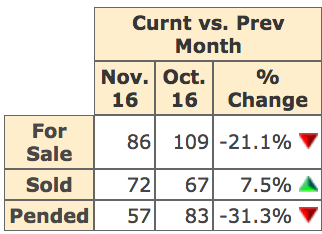 For Sale in Empire Ranch
633 Sundahl Dr, Folsom, CA 95630
Offered at: $974,950
3-4 beds, 4 baths, 3589 sq. ft.
696 Misty Ridge, Folsom, CA 95630
Offered at: $999,000
4-5 beds, 3.5 baths, 3539 sq. ft.
2226 Gallup Dr, Folsom, CA 95630
Offered at: $450,000
4 beds, 2 baths, 1664 sq. ft.
Just Sold in Empire Ranch
363 Carpenter Hill Rd, Folsom, CA 95630
Sold for: $659,000
4 beds, 2.5 baths, 2668 sq. ft.
748 Plum Creek Ct, Folsom, CA 95630
Sold for: $492,000
4 beds, 3 baths, 1979 sq. ft.
833 Hildebrand Cir, Folsom, CA 95630
Sold for: $541,000
4 beds, 2 baths, 2024 sq. ft.